Service Center for Ford Vehicle Maintenance & Repairs in Williston, ND
Life in Williston can be rough on cars, trucks, and SUVs. The yearly temperature and weather changes between hot, dry summers and bitingly cold and snowy winters can wreak havoc on the internal mechanical health of your Ford vehicle. Without regular vehicle maintenance, these problems can grow even larger, even causing damage that needs to be repaired with new parts. But at Red Rock Ford, we have a solution for all Ford vehicle service, maintenance, or repairs; it's our Service Center, which is located at our dealership in Williston but serves many North Dakota drivers in Watford City, Tioga ND and Alexander ND.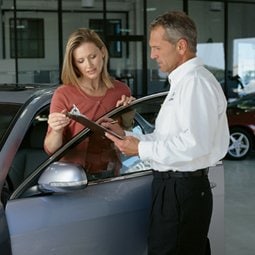 Maintenance
For routine maintenance, for example, our Service Center has the capacity to attend to all of your automotive needs. From oil and filter changes to radiator flushes, check engine lights, or dead batteries, our Ford-certified technicians have the tools and the expertise to service any Ford model as well as most non-Ford vehicles. After all, your vehicle is a finely built machine with lots of precise and interworking components. When it comes to you, your Ford model is ready to go, but it's your responsibility after that to keep it running strong by taking care of all scheduled maintenance. But don't worry, we have a comfortable lounge at Red Rock Ford, so you can sit back and relax while our mechanics quickly handle the maintenance on your car, truck, or SUV. Of course, you're welcome to drop off your vehicle or even get an impromptu oil change, as well. Plus, we do our best to keep our prices competitively low, so, in addition to providing efficient service, we also offer service specials and coupons on oil changes, tire rotations, or other services.
Repairs
More severely, when nature strikes or accidents happen, and your vehicle suddenly needs extensive repair work, whether mechanical or cosmetic, you can trust in our Service Center to do the job right. In fact, aside from our knowledgeable and experienced technicians who understand your vehicle inside and out, our dealership's Service Center has another commitment, which is that we want you to drive home fully trusting the integrity of the work we've done. That commitment of ours is largely why drivers come from across North Dakota, including Williston, Watford City, Tioga ND and Alexander ND, to visit us.
Parts & Accessories
Moreover, we use only OEM Ford parts and accessories in our repairs, which are the same parts as those used by the original manufacturer. Thus, your Ford vehicle will be fixed and feel like it did when it left the showroom floor. Of course, you can also order parts, accessories, or even tires directly from us, just in case you want to work on your vehicle's repairs or upgrades in the comfort of your home garage.
Visit our Service Center Today!
To schedule your next service appointment, or if you wish to learn more about our Service Center, please contact or visit us at Red Rock Ford in Williston today!
Call 701-577-2142 for an appointment!